Our Story
The Hunt 2008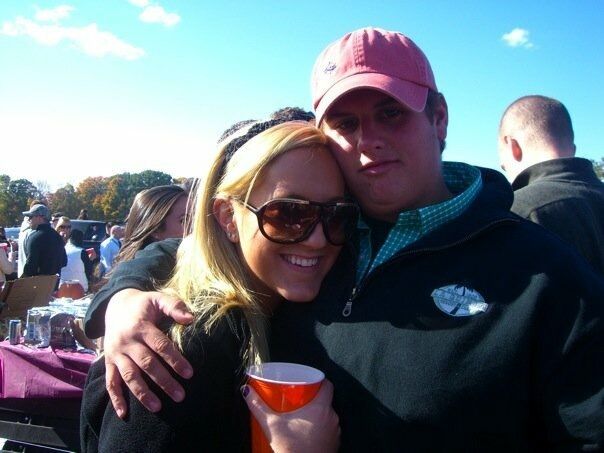 Mike's Take
Morgan and I have known each other for almost two decades because of the close bond between our two families. In one way or another, throughout the formative years of our lives, we have been around each other. Whether it was sitting in the stands at our brothers' football games or at the bus stop at Delbarton the McEwan-Passaro connection was there

As we grew older, we reconnected at The Far Hills Race Meeting or the 'Hunt' as it is lovingly referred to as and fireworks lit up the Morris County sky – from that point on I was hooked. It was as if I had met my best friend for the first time. I would soon realize that this was the case.

Through the next few months we continued to stay in touch and later that Spring while I was home on spring break, we started dating. That Summer truly was one of the best that I have ever experienced. We continued to date as Morgan started her college tenure at NYU and we had such great experiences in New York City. Every three-hour trip on Amtrak from Harrisburg was always well worth it to spend the time together.

We moved through our college years and whether we were together at the time or not we always stayed in touch and stayed close.

This part of the story is for all the hopeless romantics out there – for all of Morgan's trying to keep me at bay, the many years of flower deliveries on every holiday (I should have an equity stake in 1-800-Flowers at this point) started to hit pay dirt a few years after we got out of school.

In the Winter of 2014 we started to see each other and later on began dating again. From that point forward everything clicked and I learned that I had truly fallen in love with my best friend and partner-in-crime. We already have been through so much together and have been able to rely on each other in almost every imaginable situation. I could not be luckier to spend my life with Morgan. Trips near and far, a million laughs and so much love have now led us on our way to marriage.

We so much look forward to what the next years have in store and I could not be more ecstatic that my days will always be spent with Morg.
Morgan's Take
I had seen Mike at Delbarton football games since our brothers Rob and Joe became best friends about twenty years ago now! According to Mike, in middle school, I would ignore his attempts to talk at the bus stop, but I don't seem to remember that part.

What I remember next is the 2008 Far Hills Horse Race, The Hunt, which I attended with my best friends to join Rob and his friends in the festivities (read: chaos). I was surprised to see that Mike, visiting home from college, was there with Joe. Mike and I spoke throughout the race (apparently there really are horses at this thing!) and he was nice enough to bring my friends and I drinks throughout the day. Not much has changed. Thanks, babe. Mike told my friends and I about a party he was having that night, which we later attended, only to find out that we were the only people at the "party" at his house in Mendham. We had a good time and I was impressed by Mike's attention to us.

Months later, I received a dozen roses on Valentine's Day and was 100% convinced Rob was playing a joke on me until Mike eventually convinced me that they were from him. We were "officially" girlfriend and boyfriend exactly one month later and had so much fun dating throughout my final year of high school and first year of college.

Mike and I kept in touch for the next several years, largely through flower deliveries that I received loyally each Valentine's Day, birthday and other special occasion, and the customer service calls from 1-800-FLOWERS Mike would request to ask if I was satisfied with the product selection.

The persistence eventually wore me down (joking!) and Mike and I began dating again in 2015, while he was living in Hoboken and I in Manhattan. Since then, we have created a cozy apartment together, traveled to amazing places, laughed until our stomachs hurt, and made memories that I thank God for every day.

When Mike popped the question in May, there was no way I was going to pass on the opportunity to spend the rest of my life with my best friend, my true partner in all things, and my much better half. Even after all of these years, we somehow continue to grow closer and more appreciative of each other and the little team that we are together.

If you've made it this far, I'm awaiting a mocking text message, and looking forward to celebrating in Grand Cayman!
Welcome Festivities
Sunset Sail and Welcome Dinner
Friday, May 3 - 4:30 PM
Our favorite part of a beach day!
Please join us for a sunset cruise around Camana Bay before walking to a casual dinner.
Transportation will be ready at 4:30pm near the Marriott lobby and will be available to bring us back to the hotel after dinner around 9:30pm.
Dinner is a short walk from the dock.
Dress comfortably for the boat and bring a light sweater or jacket!
The Wedding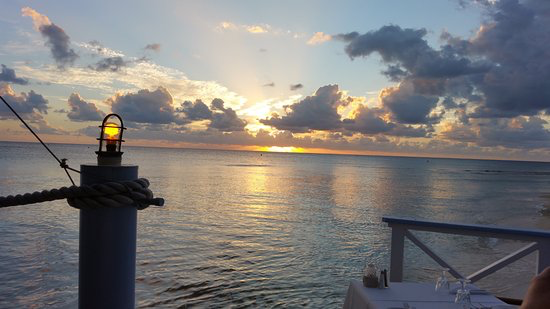 Saturday, May 4, 2019
5:30 PM
Attire: Casual. Please feel free to wear whatever is comfortable for the beach.
Ceremony and Reception
The Wharf Restaurant & Bar
43 West Bay Road, George Town, Cayman Islands
Transportation will be provided from the Marriott to The Wharf at approximately 5:00pm. We'll confirm an exact time soon!
The ceremony will begin at 5:30pm, followed by a cocktail hour, casual reception, and bonfire after party. Everything will be held on the beach, so dress comfortably and feel free to be barefoot on the beach. The sun sets at approximately 6:45pm, so bring layers in case it's cool after sunset.
Transportation will be provided to bring you back to the Marriott at around midnight,.
Day of Recovery
Sunday, May 5 - Whenever!
Whenever you're feeling up to it, come join us on the beach at the hotel to dry out from the night before. We plan to just hang out - no pressure if you have plans to head out of town early!